Working temperature: -20-60℃ Power supply voltage: DC12-24V
External dimension: 200*100*30mm
Packing size: 205*105*35mm
Net weight: 520.8g Gross weight: 615g
Working power consumption:1W
Maximum number of programming file:16
Maximum cascade units: 10
Communication interface: USB, DMX
Output: 12CH/2A
Maximum output power: 12V<288W,24V<576W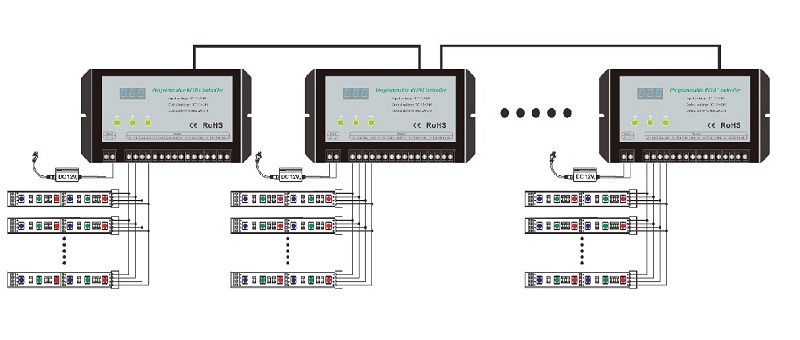 1.Programmable mode controller with PC software can make the load output the modes saved in the controller. Customer can customize output mode they want through the PC software, and then download the required mode to the controller through USB port.
2.In addition to the function of editing mode, the PC software also can show current effect of editing frame. Customer can check the mode effect after editing through playing function of PC software.
3.The controller can control max 120 channels load of led changing effect, each controller can output 12 channels, and support 10 controllers cascade through DMX512 output port.
4. It can be used in the occasion of the plant lights, light box advertising, the stage, home decoration, etc
For more specification information, please contact us.